As I said already, we can't believe how popular our new seed selection is. Poor old Klaus has his little Germanic fingers worn to the bone packing them (actually his wife does it) but we're just over the moon about how popular they are. Many people are buying them as Christmas presents which isn't surprising as they make a lovely gift.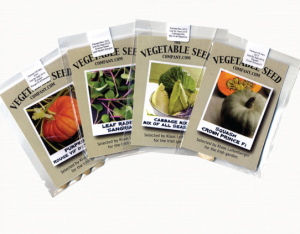 Don't forget we're doing 2 special offers which include our metal seed tin to pack the seeds. In one offer you save €10.00, the second you get the tin completely free!
The selection has been chosen by Klaus with specific attention to the Irish climate and at only €2.00 each are the best value vegetable seeds on the market.
The 'Vegtrug' is one of our most popular products and for good reason. The trug is a 1.8m by 750mm vegetable bed on legs. It is perfect for people who have trouble bending but also just a very handy bed for anyone to use. They are a perfect outside the back door for herbs and salad, when you need a few crunchy leaves or fresh aromatic herbs just pop out and grab a handful. You can even grow deeper rooted crops along the centre of the bed thanks to it's clever 'v' shape design.
For Christmas we're offering the trug with 5 packs of seeds thrown in free! We believe it's the ideal starter veg growers pack. Don't forget we're always available for help and advice in case the lucky recipient needs a helping hand.
I'm a bit of a sucker for this kind of stuff. I like the look of it, I like holding it and it does a good job. The Vegetable brush has hard bristles on one side for tough old spuds and softer bristles for delicate new potatoes. The 'Good Cop, Bad Cop' of the vegetable scrubbing world.
It's made from oak and is 14cm long by 5cm wide at its widest. Niall doesn't think we'll sell any but I think it's a great little thing, nice present. Prove him wrong.
Oak Dibber €4.95
A very nicely finished oak dibber. Use this to make planting holes for seeds or seedlings. The callibrated rings in the edge measure your planting depths for each variety of seed. A really useful tool for the gardeners tool kit. 25cm long. Made from FSC certified oak wood.
We thought this was pretty cool. You get four shiny trowel shapes and four forks which slide onto a jute string and flutter and sparkle in the wind.
Great, but why do I want that? String them along your new rows of seeds or shoots to scare away the birds. Looks pretty and works. Winner of 'Gift of the year' 2010.
Vegetable row string line €11.50
This product has a practical reason for being as well as looking great. It's a string line obviously but works well because the blades on the mini spades don't twist in the soil. Result? Your string stays nice and taut.
Apart from that and at the risk of being gushy this product is just gorgeous. A lovely gardening gift.
Folding Pocket Secateurs €11.75
Now I know what you're thinking, this is a little gimmick I'll never use. NO WAY! This really is a great little secateurs that'll cut through an impressive 15mm stem with its tough stainless steel blades. It folds down to a minute 3cm x 9cm so fits neatly into your pocket. Honestly, I use it all the time.
It also has a saw blade and knife which is really handy and comes with a durable nylon pouch.
Potting Shed Collection. €35.00
This isn't just a pretty box. The potting shed collection contains a nifty paper potter for making your own
paper pots, a dinky diblet for pricking out seedlings, an oak pot tamper for firming down soil, a dibber for spacing and planting your seedlings and garden lines and pegs for making perfect rows. All for €35.00! I think that's a bargain.
There's plenty more great presents where this stuff came from, visit our webshop.