Choosing your seed variety is so important and this year we let Klaus Laitenberger choose ours. We couldn't believe the results. We all got so excited we decided to join forces and start our own seed import company. The vegetable seed company is the result.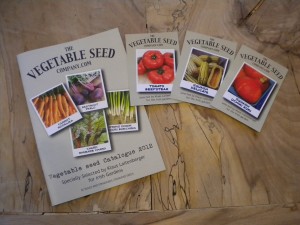 Klaus has years of hands on experience under his belt as a grower, head of the organic centre, lecturer and more recently, author. He is very particular about his choice of seeds especially for our cool Irish climate. The Vegetable Seed Company selection has been hand picked by Klaus with seeds chosen from all over Europe. You won't find many of the varieties anywhere else, we urge you to try them, you definitely won't be disappointed.
All packs (With the exception of a couple of tomatoes) are fantastic value at €2.00 each so they won't break the bank either. You also get a description, advice, planting times and distances written by Klaus on the back of each pack.
To celebrate the launch of our new selection we're offering our beautiful metal seed tin worth €15.00 in two special offers. The seed tin and seeds make a wonderful Christmas present and will virtually guarantee the special gardener in you life a great years growing.
Offer 1
10 seed packs of your choice including seed tin and filing cards only €25.00 You save €10.00
Offer 2
20 seed packs of your choice including seed tin and filing cards €40.00. You save €15.00