We spend a lot of time at Quickcrop trying to come up with better ways of doing things. We want to make it as easy as possible to shop on our site but it's also important you have a success in your vegetable garden. I want to show you two new additions to our site which we hope will make growing perfect vegetables a whole lot easier.
Quickcrop Seedlings with new picker tool. We're approaching the end of April and the time when we send out our vegetable seedling packs. Quickcrop seedlings are ideal for the beginner but also very popular with more experienced growers. They arrive in perfect condition at your door in our specially designed Quickcrop box ready to plant out in your garden.
We've added extra vegetables and improved our 'choose your own' tool to make our seedling dept an easy one stop shop for the busy gardener. All our plants are organically grown in our nurseries using the highest quality seed. We don't use any chemical feeds or pest control and only send out the best plants.
You can see our new plant picker tool here: 84 Cell Choose Your Own 42 Cell Choose Your Own 6 Cell Choose Your Own 6 Cell Choose Your Own Herb Tray
What's better about Quickcrop seedlings?
All seedlings are grown in certified organic peat free compost.
All our varieties have been chosen by Klaus Laitenberger to be the most successful in our climate.
Seedlings have been grown for an average of 4 weeks before they are sent out.
Plants have been properly hardened off making them ready to plant out straight away.
We use new seedling trays and compost every year to ensure our plants are disease free.
We use a specially designed box to ensure your seedlings reach you in perfect condition.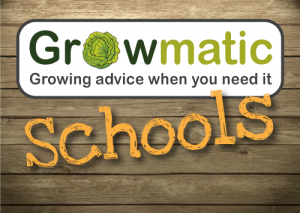 What's the idea behind Growmatic? We get a lot of calls in the office throughout the season with people a little unsure of how to care for the crops they're growing. We're always delighted to help but thought it would be handy for people to have all the information in our heads available 24 hrs a day.
'Growmatic' is a webtool that allows you to input the vegetables you want to grow. The system then sets up a timeline for each crop and when it reaches an important point in the life cycle it emails you to let you know. You set when you sowed or planted them and what part of country you're in so the system can tailor the notifications to your particular area.
Planning the year is easy by scrolling through the calender to see what you need to do and when to do it.
Growmatic schools. We got such great feedback from teachers about the tool that we decided to go one step further and add special school functions. The problem a lot of teachers have is trying to manage a school garden around the holidays. We have solved this by allowing term times to be added to the system which enables the teacher to see at a glance if the crop they want will be ready before the end of term. The system can also send a weekly email with any tasks for the following week so takes a little of the pressure off.
We're keen to improve the system and would love to hear any feedback you may have.