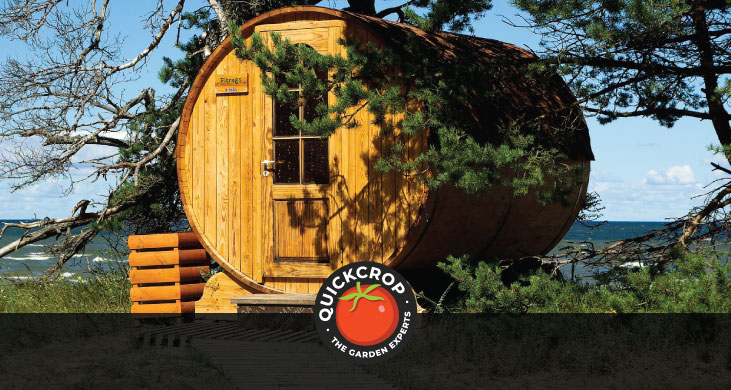 Barrel saunas are a stylish, modern type of wooden sauna with a distinctive, rounded barrel shape. The curved walls actively help to trap the heat inside and distribute it in a more even fashion, making then more energy efficient and comfortable to be in. The round design keeps hotter air constantly moving so the heat throughout the sauna remains steady regardless of where you are sitting. Wood expands as the temperature increases, and in a circular structure this just serves to create a better seal and ensure less hot air and moisture will escape.
Barrel style saunas are gaining popularity these days as they seamlessly blend with both urban and rural settings. The elegant, rounded timber construction adds a touch of rustic charm in any urban setting. Whether in a back yard, patio, or on a rooftop garden, the barrel sauna provides a peaceful escape. The curved, earthy design of these structures allow them to almost become an extension of any rural or natural environment. The Spruce timber finish blends in with the greens and browns of our countryside and implies a deeper connection with nature and enhances the overall experience before you even enter the building. Location aside, our barrel saunas have been designed to perfectly walk the line between functionality and aesthetics. They are the pinnacle of home sanctuaries that also enhance the ambience of their surroundings.
View Product: Wood Fired Barrel Sauna - 400
Barrel saunas come in a variety of sizes and can be installed almost anywhere from smaller backyards and patios to larger outdoor areas. They can even be installed inside if needed, and if space allows. Wooden saunas need to be made from high quality timber and our new range are all crafted from FSC certified Spruce Thermowood (thermally modified wood).
Thermowood
Our barrel saunas are made out of Spruce Thermowood, meaning it has been thermally modified. The timber is heated in very high temperatures in a controlled environment without oxygen being present, to induce a change in the chemical make-up of its cell walls. This is done to increase the strength and durability of the timber and also increases resistance to rot and decay. This process is essential for structures dealing with high temperatures and humidity levels like our barrel saunas.
View Product: Wood Fired Barrel Sauna - 250
Delivery & Assembly
Buying a sauna can be a big decision and we are always on-hand to minimise any friction. We provide fast and reliable delivery on all our barrel saunas and wood fired hot tubs and are very pleased to offer an assembly and installation service if required. Our Sauna expert will deliver and assemble your home sauna for you. Assembly prices may vary depending on the type of sauna so please contact us for more details.