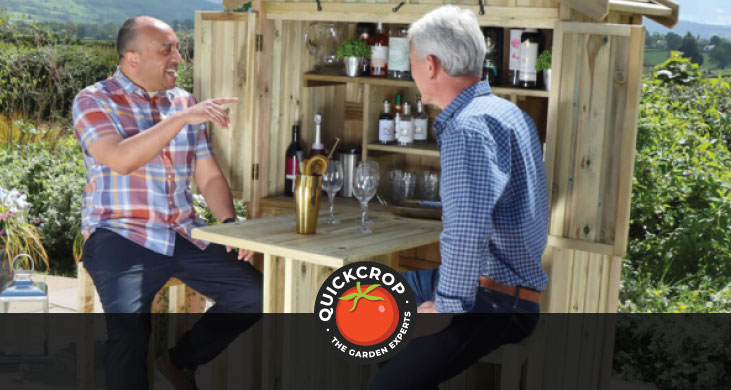 Garden furniture is often designed or bought with relaxation or solitary 'me time' in mind, but that's far from the only option. The garden can be a great place to entertain, have guests around for a barbeque and a few drinks, or have a picnic with the kids. It's a great way of making the most of warm summer evenings, and as a bonus you can (very subtly) show off how good your garden is looking.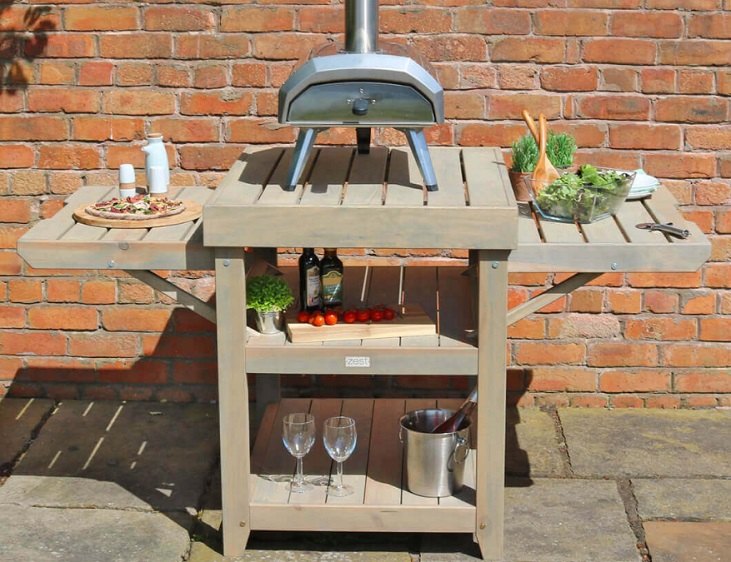 Garden Pizza Oven Table
This table has a clever design that allows for 365 degree access when cooking or serving food. The central table top provides plenty of space for your pizza oven, while underneath are two storage shelves that can be used for wine glasses, plates, sauces, refreshments or keeping a bottle or two on ice. Two fold-up shelves on either side expand the working area: you can use one shelf for arranging toppings, preparing salads or mixing drinks, while the other can be used for serving guests.
When not in use for entertainment purposes, this can do double duty as a potting table, plant display or as a barbeque side table.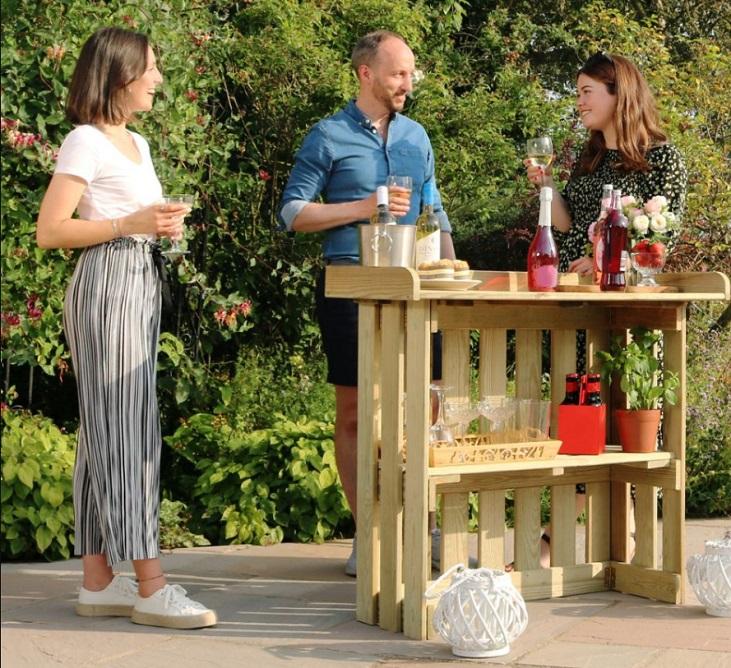 Folding Garden Bar
Have you ever found yourself conflicted between wanting to spend time having some drinks with friends and wanting to spend time in your garden? Well look no further. The sturdy garden bar is designed to provide a socialising centrepiece for your outdoors, with shelf space for wine bottles, glasses, ice, snacks and maybe even a plant pot or two (to show off your gardening skills). Maybe I'm getting carried away but as the evening gets late you could even use it for playing records.
Of course, when your social calendar is relatively empty you can use the bar as a potting table as well as storing pots on the lower or top shelf. As a bonus there's very little assembly involved with the garden bar: you simply unfold the side panels, fold down the hinged shelf and add the countertop. The compact, easily foldable nature of the bar means that you can store it away somewhere when the weather is too gloomy or cold to be using it.
Garden Bar & 2 Stool Set
The same principle as above but with more ample storage space and seating. While the folding garden bar is a casual centrepiece to move around, this Garden Bar is a little more refined and sophisticated, shall we say. If you're something of a wine connoisseur or a collector of craft beers for example, you'll appreciate the fully fitted cabinet shelving with an open display. A fold-out counter is combined with two backless bar stools; you can of course arrange any other garden seating you have around the bar area as well. At 'closing time', you can fold everything back in, close the front and do your best 'are ye right there folks?' impression.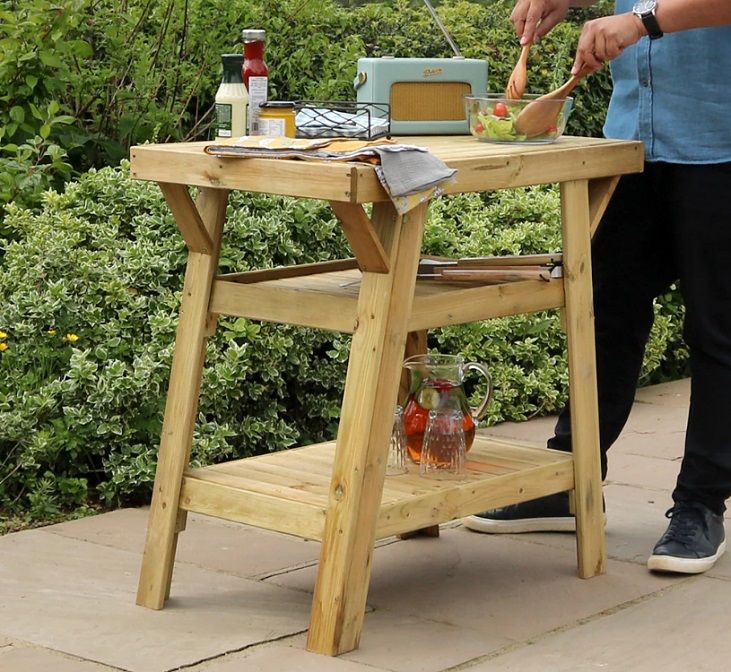 BBQ Side Table
Outdoor barbeques are a great way of making the most of warm summer weather. They also require you to have some handy items nearby. A barbeque side table can be used for a variety of purposes: storage for utensils, plates and glasses; a preparation spot with a chopping board and condiments; or a serving table complete with drinks on ice.
The table top is 91 cm wide and 85 cm high. Two thick timber shelves underneath can be used for storage, while the sturdy legs slant outwards. Needless to say, this is multipurpose enough to be used for many other garden purposes as well, whether you want to store small tools beside you as you work or display colourful plants on your patio.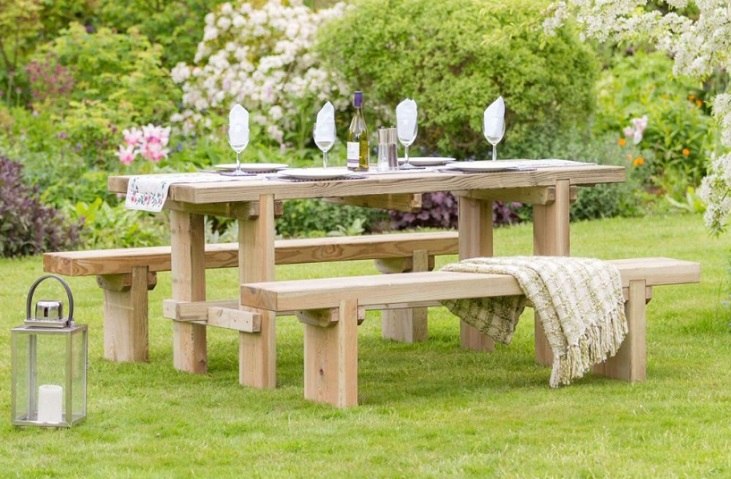 Benches
Garden benches can really come into their own once you have some company around. We have a range of options on our site. Some come as part of a table and bench set, such as the Rebecca Table & 2 Bench Set or the Harriet Table & 2 Bench Set. The latter was a finalist in the GIMA (Garden Industry Manufacturer's Association) awards; the Bavarian-style pieces have elegant curved legs and edges, while the two benches combined can comfortably seat up to 6 people. The Rebecca table has a more 'no-nonsense', traditional design that provides a nice alternative option. It features two freestanding backless benches and has the same table height as the Harriet. Both of these bench and table sets can also be a lovely addition to the garden for family dinners or special occasions.
Both the Rebecca and Harriet benches can be purchased as single units on our site. Other options include the Emily Bench (available as a 3-seater or 2-seater, the Millie Bench and the striking Cherry Blossom Bench, which is inspired by Japanese architecture.
Zest
All of the above garden furniture are made by the UK company Zest, who aim for environmental sustainability with their products. They are made with high quality slow-grown softwood, and have a 10 year guarantee against rot. The wood is sourced from sustainably managed forests and is FSC certified.
Firebowls and Fire Pits
You can add a bohemian touch to your outdoor gatherings with a fire pit, firebowl or brazier. These allow you to continue (or start) socialising when the sun has gone down. The flickering of bright flames as the backdrop to conversation creates an ambience all of its own.
A range of styles are available on our site. With the rustic three-legged Glasto Fire Bowl you can relive your favourite music festival memories; it's made from durable cast iron and will oxidise naturally as it ages. The more ornate Lelant Fire Bowl features a latticed steel design. It also has a mesh lid for safety and a removable grate for easy cleaning.
The St. Austell Steel Fire Pit is perfect for toasting marshmallows and telling a few ghost stories, while the Tintagel Fire Bowl has a tripod design and a deeper bowl-like appearance, one that will age naturally to a rust-like colour. The Talland Firepit includes a cooking grill and a lower shelf that can be used to keep food warm, so it's one that can be called up for barbeque duty if need be.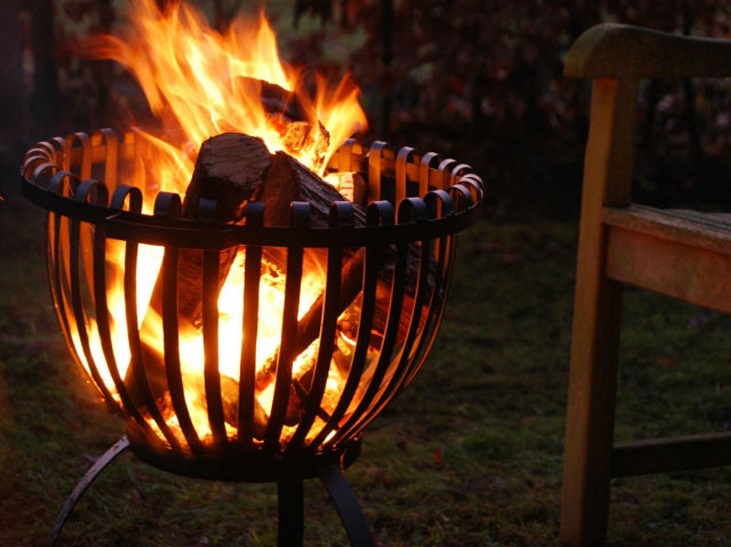 Then there's the Padstow Fire Basket or the Traditional Brazier Log Burner. These have more of an open fire design, allowing for a better view of the dancing flames through the gratework. Braziers and fire baskets can - if local bylaws allow - be used to burn garden waste that won't break down in the compost heap. As for the best fuel for your outdoor gatherings, it's recommended to use clean, dry fuel like seasoned wood: this will burn easily and give off good heat with the minimum of smoke. It's a carbon neutral process, where the CO2 produced by burning is equivalent to the CO2 absorbed by the tree in question during its lifetime.
When using any variation on a fire bowl or basket, it's important to keep safety in mind and be careful not to have it placed near any vegetation.