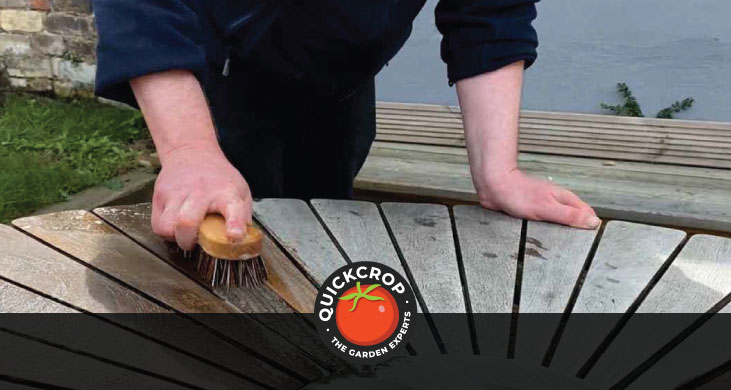 Outdoor or patio furniture makes for a great addition to your garden, allowing you to spend time in the fresh air with family or just sit and soak in the serenity. With some items of furniture it's even ok to leave them outside in wintertime when not in active use. However, this doesn't mean that outdoor furniture is indestructible or magical. It will still need cleaning and maintenance to stay looking good or to prolong its lifespan. It's also a good idea to protect the furniture during severe weather conditions, even though you might be tempted to test just how 'weatherproof' they are. The best way of cleaning an item of furniture can depend on the material it's been made from. When it comes to consumer choice, we now have a bigger array of materials than ever - each with their own different qualities and benefits. Always check the manufacturer's instructions if you're unsure about using a certain cleaning product or technique. Cleaning may be well-intentioned but if done the wrong way you can spoil your furniture!
How often you clean your furniture can also depend on just how much you use it. Summer is obviously the time when your outdoor furniture will be put through its paces, so give them a regular once-over and watch out for any spillages, messes left behind by pets and so on. If you're planning to cover the furniture or store it away for the cooler months, this is also a good time to give it all a good cleaning. It will prevent moisture and mildew build-up and you can be confident it will look good-as-new when the warmer days roll back around.
Wood Furniture
With wooden garden furniture, you can choose to let the colour naturally fade to a greyish patina, or try to retain the brown colour as much as possible by using products like furniture oil and sealant. If it's the former, cleaning the furniture once or twice a year should suffice.
Vacuum and dust the furniture, paying attention to any crevices. For a cleaning solution, use mild soap or baking soda diluted in warm water. Use a cloth or sponge and wring it out well before cleaning the furniture. Clean with a circular motion from the top areas downwards. Rinse the same areas before leaving the furniture to air dry.
In a similar manner, you can mix vinegar with olive oil and apply a polish to the furniture which should keep it from looking dry or worn. Cleaning wooden furniture once or twice a year should keep it looking good, but you may have to clean more often if you want to apply a sealant or preserving oil to the wood. Clean any spillages as they happen to avoid possibly staining the wood (particularly if it's wine or alcohol!).
Mould and mildew can sometimes grow on wooden furniture in warm and damp conditions. Avoid the temptation of using bleach, as it can discolour the finish. If the mould is still stubbornly hanging about after a regular cleaning, it may need to be removed using fine-grained sandpaper. If this is the case, it's best to refinish or apply an oil to the wood afterwards.
Teak
Avoid the temptation of using a power washer on teak furniture, as it can drive out the natural oils that are among its best features. Teak furniture can be cleaned very easily anyway, and the results can be surprisingly dramatic if it hasn't been cleaned in a while. All you need is a mixture of soap and warm water and a smooth sponge. Start from the bottom and work upwards to avoid leaving streaks. Scrub gently and rinse before drying with a towel. In the event of mould or mildew, use a well-diluted bleach and wipe with a cloth or sponge.
Rattan
Use a handheld vacuum to remove dust and soil. A key part of cleaning rattan or other weaved furniture is removing pesky dirt and debris that's lodged itself in between the weaves. A garden hose can be used to loosen and displace this stubborn dirt. Rub gently with a stiff-handled brush or even a toothbrush, then scrub the furniture with warm soapy water and a cloth. Using a toothbrush, apply soapy bubbles to gaps and crevices. Allow the furniture to air dry. For spillages, cleaning immediately with a damp cloth should do the job.
Wicker
Natural wicker is too sensitive for outdoor usage, so outdoor furniture is usually made from a synthetic 'all-weather' wicker. Maybe the most popular type is known as PE (polyethene) rattan. It's ultra-durable and very trouble-free in a lot of ways. The material is stain-resistant and won't absorb spillages. Wipe this kind of furniture with a damp cloth and mild soapy water. Rinse with a garden hose and air-dry.
Plastic
Warm soapy water is your best bet with plastic furniture. Use a soft sponge, as more abrasive ones can leave marks on the plastic. If using a chemical cleaner, make sure it's rinsed off well - otherwise, the plastic may fade. For tough stains and grime or mildew, use a baking soda/water mixture and rub with a sponge.
Aluminium
Aluminium furniture is relatively easy to keep clean, but one thing you need to watch out for is oxidation. This can be subtle at first, with a slight dulling of the finish. More noticeably it can result in a chalky white cast. Eventually it can cause pitting on the furniture surface. If there's already evidence of oxidation, you can remove it with a metal polishing paste or a mixture of vinegar and water. Powder-coated aluminium is much less susceptible to oxidation.
For general cleaning: remove any scuff marks with a mild cleaner. Clean with warm soapy water and a soft cloth. Rinse off with a hose to ensure that no soapy residue is left behind. With aluminium, it's important to avoid the use of baking soda or any alkaline-based cleaners as this can corrode and discolour the furniture.
Wrought-Iron
Cleaning wrought-iron furniture is important to keep it looking well and to prevent rust (which it can be particularly susceptible to). Rusting can result from a buildup of dust and dirt, so some handheld vacuuming should be the first step. After that, use some mild soap and water to wash down the furniture and leave it to air dry.
If the furniture has already started rusting, spray some WD-40 on the affected area and wipe with a cloth. A solution of white vinegar and water can be used to clean it off further. A pinch of salt here will enhance the acidic effects of the vinegar. Let the vinegar solution sit for 10-15 minutes and then scrub with a soft-bristled brush or some steel wool. Rinse with a garden hose.
Cushions
Cushion and other furniture covers are often removable and machine-washable. Check the washing instructions. If there's any heavy staining, apply a stain-removing detergent or fabric cleaner before putting it in the wash - work it in or let it soak in for the recommended length of time. Air dry or tumble dry on low heat. While you're doing this, take the opportunity to air out the cushions themselves.
Non-removable covers can be spot-cleaned with water and a mild detergent or cleaning solution. Upholstery shampoo combined with a rotary brush can work very well too. It's advisable to clean any non-removable fabric on a sunny day to give it a chance to dry and air out sufficiently. Soaking up any remaining moisture with some kitchen towel is a good idea too.