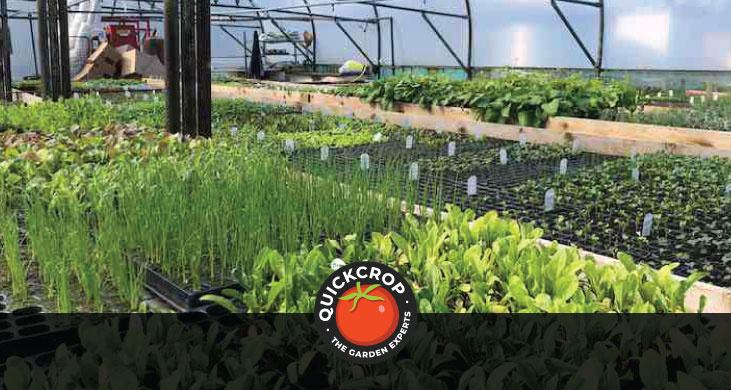 I was over at the nursery yesterday morning (pinching a few trees to replace some of my ash that had to come down) and took a few photos as it all looked so bright and colourful. I must say that Jack, Mags and the rest of the team are producing some really superb quality seedling plants, all of which are grown exclusively for Quickcrop customers.
You can see above and below the tidy benches of seedling trays at various stages of development from 2 week old kale plants (below) still showing their seed leaves to 4 week old perpetual spinach above which is ready to be sent out.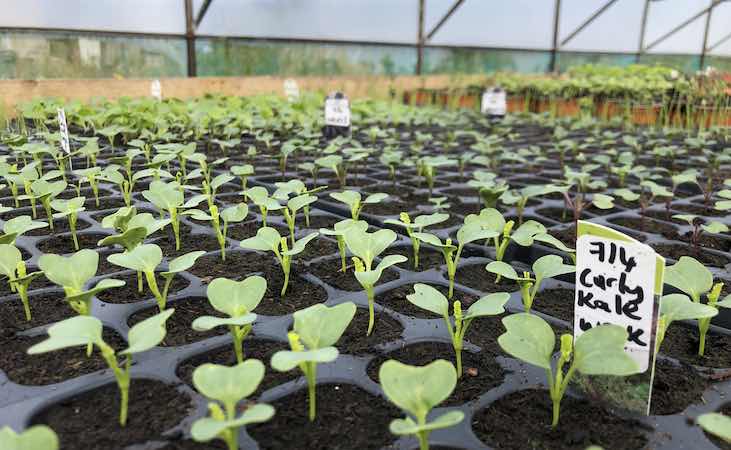 All seedlings are grown in the highest quality Klasmann organic seed compost, they are not fed with any artificial fertiliser nor are they sprayed with any pest control chemicals. They are sown in organic compost and watered with river water that charges straight down the mountain behind the nursery, that's it.
The plants are sent out at 3-4 weeks old when they have well developed roots but are not getting cramped in their trays. The seedlings do go straight from our polytunnels to your garden so should be hardened off for a couple of days before they are planted out (or can be covered by fleece if you want the easy way out).
Seed sowing machine
I arrived as Jack was sowing some trays of radish which gave me a chance to see his cool seed sowing machine in action. The system is amusing to watch as it consists of a vibrating tray that cases the seeds to jiggle up and down excitedly before being hoovered up by the tiny vacuum nozzles you see above.
The seeds are gently held by the vacuum, then flipped over and deposited in the waiting seedling tray below which moves up automatically. This means that jack can sow a full row in the same time it would take to sow seed. All very satisfying.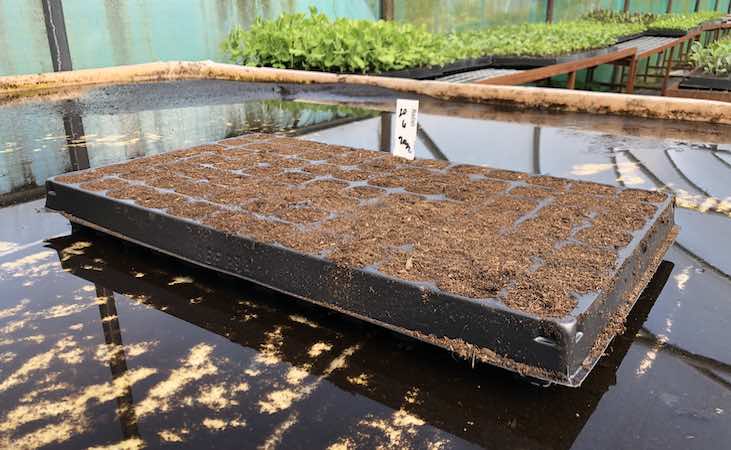 I was also interested to see that Jack doesn't water the compost in the trays either but, once they are filled and tamped down, he places them in a shallow water bath. There are a couple of reasons including time, and the fact that it doesn't displace the seeds but also because it ensures the compost is properly wetted.
It can be the case, especially when compost has got a little dry, that you end up with a moist surface but dry compost underneath. It makes sense therefore to irrigate from below as, once the surface has darkened, you know that all the compost in the tray is moist.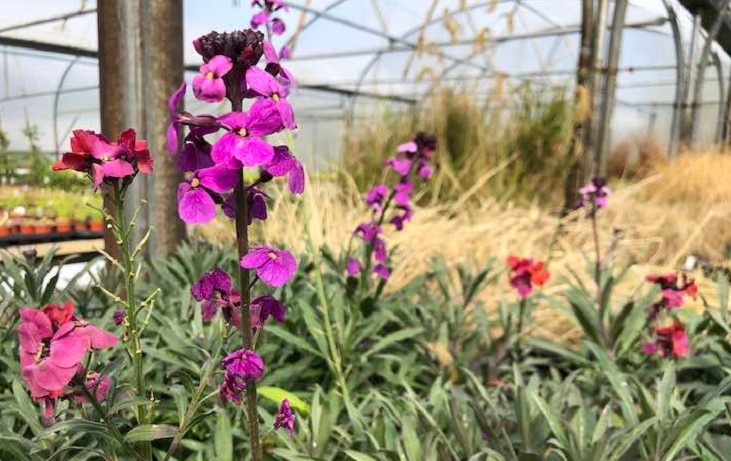 The colour didn't end with the bright spring greens of the vegetable seedlings as the flowering perennials were also waking up from their winter slumber. Above you can see a mix of erysium 'Bowles mauve' and 'Red jep' against the sandy backdrop of one of our ornamental grasses. For someone who has easy access to to all these plants, I really have been very lazy at stocking my own garden. That will have to change this year!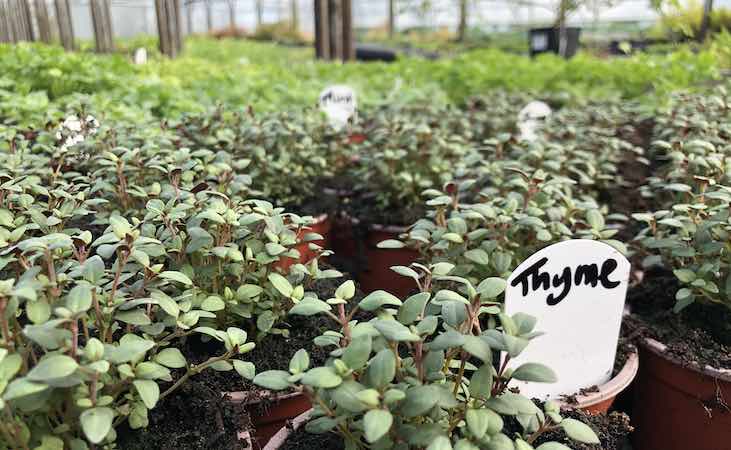 Of course we also stock a comprehensive range of 20 different culinary herbs, you can see some very happy looking thyme coming on in the image above. Everything has been a bit slow this season as it has been relatively cold but it is amazing how plants suddenly take off once things warm up and light levels increase.
Our herb range includes coriander, basil, borage, chives, dill, fennel, garlic chives, camomile, lemon balm, lovage, oregano, flat and curly leaved parsley, rosemary, sage, salad burnet, sorrel, spearmint, thyme and winter savory. We offer a 6 pack of the most popular varieties or you can choose your own 6 or 12 pack selection using our choose your own plant picker tool.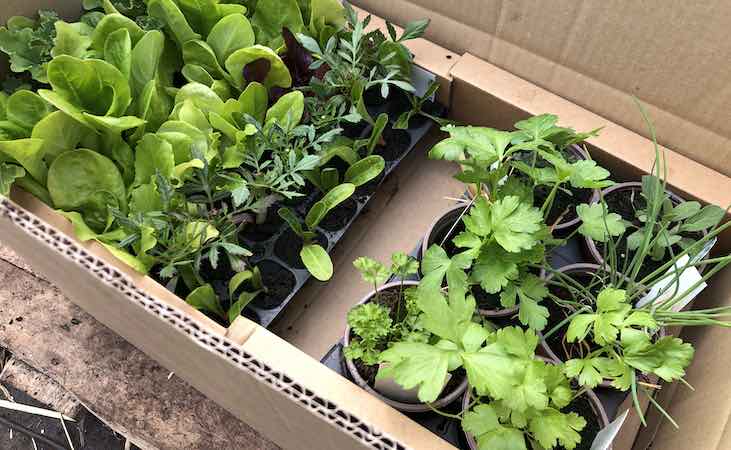 And finally, here's a box of plants on the bench in the process of getting packed. We have experimented with any number of different packing solutions but keep coming back to our original method which seems to be the best. The trays are kept in place in the box with special cardboard inserts and then loosely packed with straw to prevent them moving around.
Our boxes are made from very sturdy cardboard to ensure they can't be crushed and are labelled 'This Way Up' on every side to minimise disturbance in transit. From time to time plants can move around in the box but it is a lot rarer than you might think given the numbers of plants we send out. We have a policy of replacing any damaged plants without question but, in nearly all cases, they arrive in tip top condition.
If you would like to order some of Jack's vigorous and healthy vegetable seedling plants, you can do so by visiting our 'Vegetable Plants' section below. The beginning of May is the best time the plant out most vegetable crops so we are only a week away until planting time!