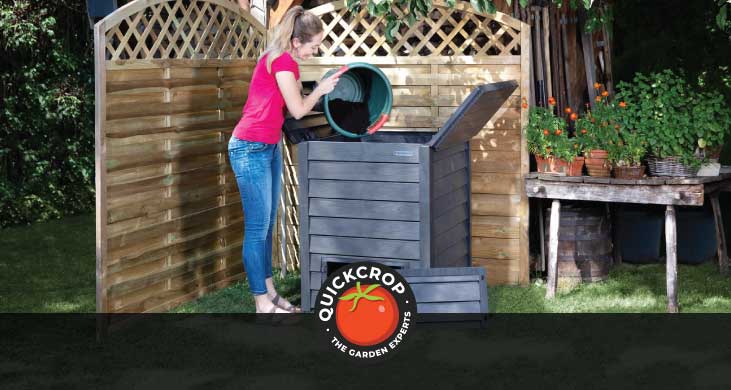 If you're looking for a composting solution that's somewhere between a traditional static pile and the larger insulated composters, The Thermo range of composters have a lot to offer. Produced by German company Garantia, they are made from 100% recycled, UV-stabilised plastic. The 'Thermo' refers to Thermolen, a 'foamed high density polyethylene' which features tiny bubbles within the material. This foam core provides high levels of insulation and allows the composter to retain heat more effectively. Built-in ventilation allows the temperature to be regulated, keeping the heat at an optimum level for successful composting.
Composting in an enclosed container has a number of benefits compared to an open compost pile.
They will retain warmth and moisture better (compost piles can dry out without enough of the former)
They won't get too wet or soggy during spells of rainy weather.
There will be less chance of problems with rodents or pests attracted to the smell.
The superior heat retention will speed up the composting process considerably.
With regard to the last point, these Thermo bins can produce finished compost in about 16 to 20 weeks in the summer months. A typical wait time for waste to break down into compost (without added insulation) could be anything between 6-24 months. Material can still be added to the Thermos in winter: the composting process will be somewhat slower, but they will keep plugging away as microorganisms continue to produce heat.
View Article: Compost Bin Comparisons: The Best Composters 2023
Although they're insulated, the Thermos are not completely sealed, as they're designed to make contact with the soil underneath - allowing beneficial microorganisms to access the waste. As such, the Thermos bridge the gap between static and insulated composters. Extra 'Soil Fence' or grating accessories are also an option for extra rodent protection. The composters won't be as successful if you place them on concrete surfaces.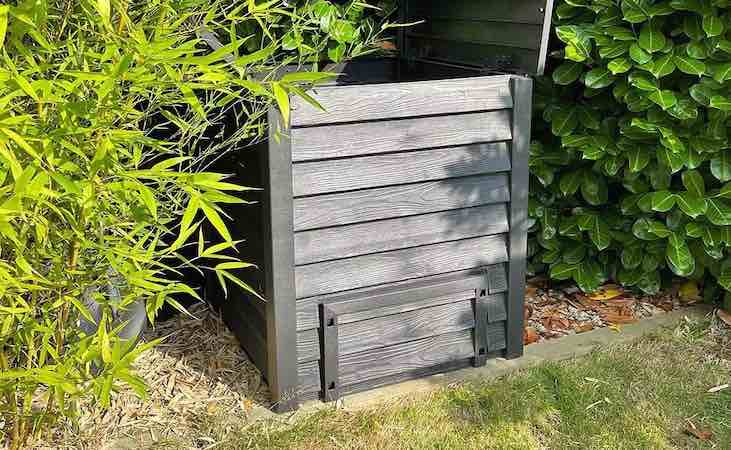 A quick note on positioning: when placing your composter outdoors, the ideal is to have it placed in a sweet spot where it's semi-shaded but still gets plenty of sun. When composting, make sure to have a good balance between 'green' and 'brown' waste. Turning the pile regularly will add oxygen and help along the decomposition process. The access panels are slightly different on each of these composters, but generally they provide ease of usage when it comes to turning or 'aerating', with plenty of space for a fork or other garden tool.
The Thermo Wood
The Thermo Wood is a really attractive unit, with a slatted wood effect on the front which is quite realistic-looking (as you can tell from the photos). While a lot of compost containers are functional in look and design, this one can actually fit in with the look or 'vibe' of your garden, particularly if you have similar-looking planters or fencing nearby.
View Product: Thermo Wood Composter
The Thermo Wood is very easy to set up using a click and connect system, When it comes to adding material, there are two large flaps on top of the composter that open outwards like a gaping mouth. When the compost has broken down and it's time to remove it, there are two easily removable access panels at the base (one front and one back). Ventilation is provided by openings on all four sides which are concealed under the wooden boards.
The unit's capacity is a respectable 600 litres. For us however, it's the charming appearance of the composter that really marks it out as a recommendation.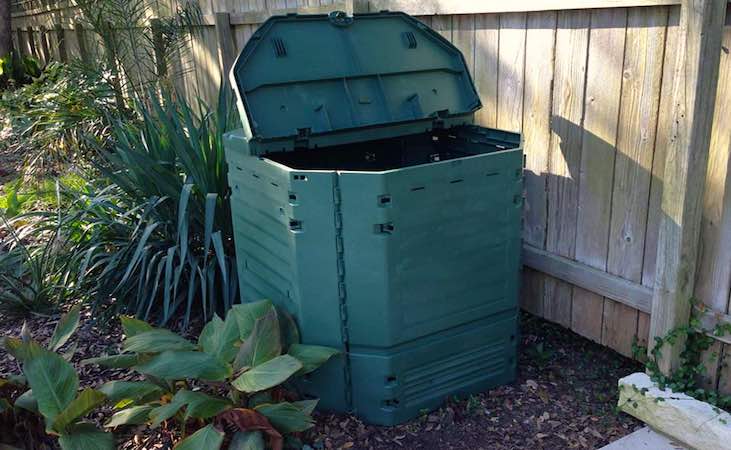 The Thermo King and Thermo Star
Ok, so with the Thermo King we're back to a more functional 'get the job done' look, but the composter itself is still every bit as effective. Again we have a click and connect system to construct it, and two flaps that open up on top. This gives you plenty of elbow room to add material, turn and aerate, or simply to check on your compost. The lid also features a wind-fix adjustment which adds extra wind protection when you need it, as well as the ability to regulate air circulation.
View Product: Thermo King Composter
Spacious lower panels can be removed when you want to take out your finished compost. Overall, the Thermo King is a compact and user-friendly composter which will build up some nice heat and do a great job of breaking down food and garden waste. It's available in three sizes: 400, 600 and 900 litres.
The Thermo Star is so called because of its pentagonal shape, which perhaps makes it that bit more pleasing to the eye than the King. The other key differentiating feature of the Star is that finished compost can be accessed from all sides of the bin. The two lid flaps don't open quite as widely as with the Thermo Wood, but there's certainly sufficient space for adding bucketfuls of material to the composter. With both the King and the Star, ventilation is provided by openings and louvres. Again, the Thermo Star comes in three sizes: this time it's 400, 600 and 1000 litres.
View Product: Thermo Star Composter
Thermo Composter Comparisons
In terms of a head to head comparison, there really isn't much to distinguish between these bins. It will come down to personal taste and preference. As we've seen, perhaps the most notable stand-out characteristic is that the Thermo Wood is charmingly rustic compared to its more functional counterparts. Nonetheless, this is mainly an aesthetic quality, as it's made from recycled plastic just the same as the others.
Other differences are in the way the composters open up for access, whether it's with spacious removable base panels (King), two lids that yawn outwards (Wood), or - in the case of the Star - where you can use access panels all the way around the structure. According to some reviews the King can be a bit more finicky when assembling compared to the easier assembly process for the Wood and Star.
Capacity-wise, we supply a range of sizes for the Thermo Star and King; the Thermo Wood just comes as a 600 litre capacity unit, so you will have larger options available if you choose to go with one of the others.
Essentially though, each of these units will make for a great composting solution for a large-ish family or a very active gardener (and why not both!).