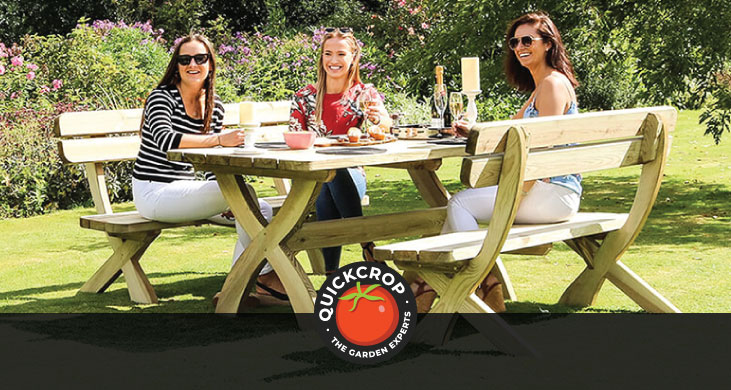 The garden isn't just for working in - it's also a great place to sit and gather your thoughts, soak in the ambience of nature, or relax in the outdoors with friends. Wooden garden benches are a popular addition to outdoor spaces. Their appearance fits in perfectly with the natural surroundings, and they often pair well visually with raised beds that are made from similar materials.
Advantages of Wooden Garden Furniture
Wood isn't the only material that is commonly used for outdoor furniture, so what are its advantages?
Natural Look: Garden benches can be rustic or they can be more modern, but they will pretty much always have a warmth and a charm to them that (for example) plastic or stainless steel lack.
Durability: The timber benches we sell are pressure treated to provide long lasting protection against rot. (Some splits or cracks that may be evident are part of the natural maturing process, and will not affect strength or durability).
Sustainability: Many types of wooden benches are made from timber sourced from sustainably managed forests. Look for the product details on our site for info and confirmation that your wood is responsibly sourced or FSC* certified (*Forest Stewardship Council).
Versatility: There are different wooden bench designs to suit different tastes. Use a bench to relax in the garden with a good book, lounge around with friends on a summer evening or take a breather while you're hard at work in the garden. Wooden benches make for a great combination with wooden outdoor gazebos or under the shelter and shade of an arch.
Our garden seating options range from simple heavy duty timber benches to more modern designs with curved edges or top bars. Many garden benches can be paired with tables of the same design, or bought individually. Combine them with some stylish throws or cushions for that extra touch of elegance. If the furniture is seeing a healthy level of use, you can add to your outdoor furniture over time.
Some of our products include: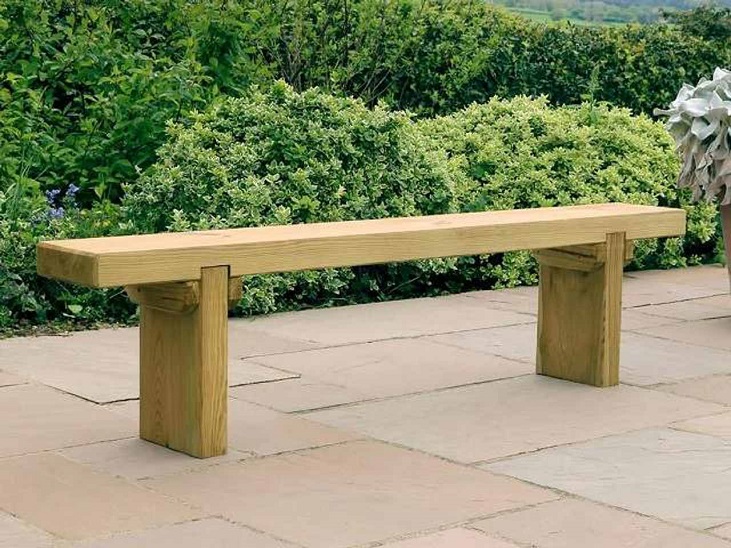 Rebecca Bench: A simple but sturdy design, the backless Rebecca Bench is supported by two chunky legs. It's FSC-certified and has an easy build assembly. One or more benches can be combined with the Rebecca table. It's made from high quality, 70mm thick timber.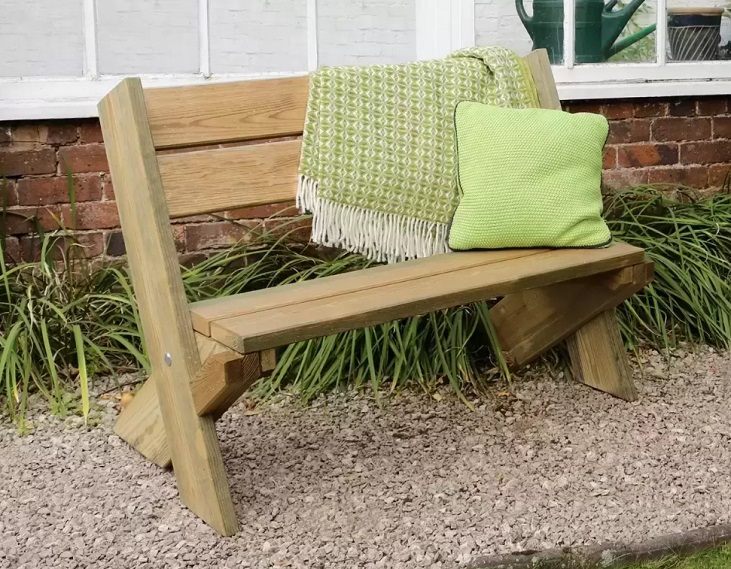 Millie Bench: This one has an elegant angled design. The seating has an urban quality to it that makes it look at home even in small outdoor areas. To that end, the bench is also foldable so that you can store it up against a wall or in the shed. The Millie bench is perfect for summer lounging with a book if you ask us. Again, this is FSC-certified timber so you know it comes from sustainably-managed forests.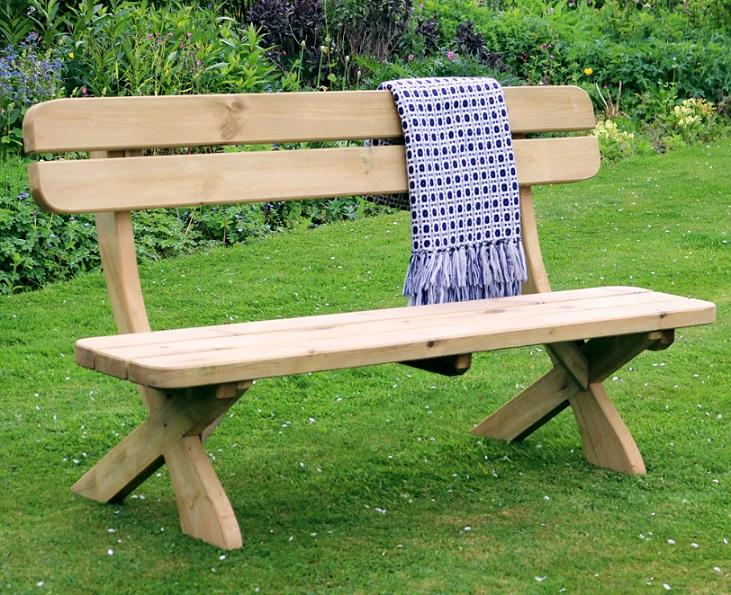 Harriet Bench: The Harriet Bench is made from pressure-treated wood with an attractive finish. It has a smooth, subtly curved design with strap back chair features. The wooden finish has a lot of authentic-feeling character to it! This bench can be used along with the Harriet Table or as a two bench set. It can seat three people (or six if you go for the double set). The crossover legs have a smooth, understated design.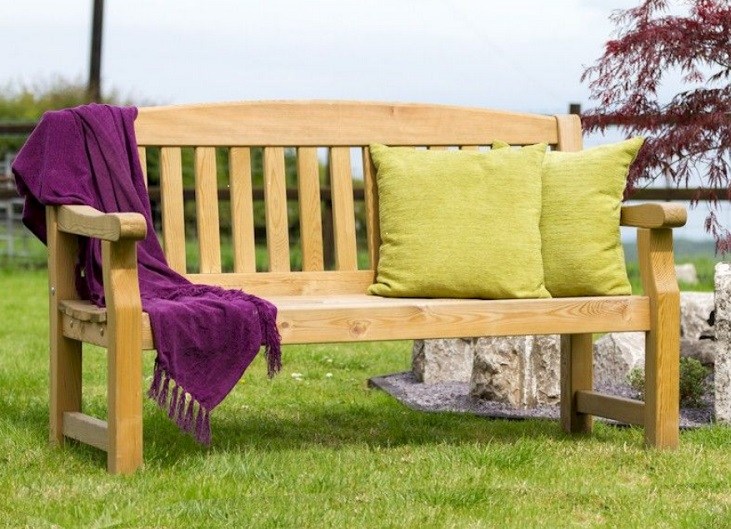 Emily Bench: Continuing our theme of benches that are named like hurricanes, the Emily Bench has a very contemporary look to it, with a gently angled back for comfort.This bench is available as a 2 seater (4 ft) or 3 seater (5 ft). It's made from pressure-treated wood, and won't require the use of any wood preservative: it has a 10 year guarantee against rot.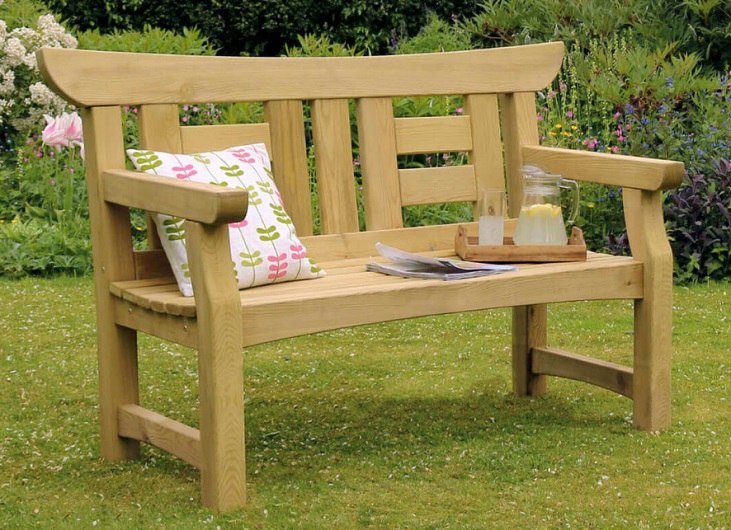 Cherry Blossom Japanese Wooden Bench: Not to single it out, but this bench really does have a strikingly attractive design. It's inspired by Japanese architecture, with the oriental style reflected in the elegant upward curves of the back panel. The square back panel supports have a pleasing symmetry to them.
View Product: Cherry Blossom Japanese Wooden Bench
Zest
All the above benches come from Zest's range of outdoor furniture; in their own words, they "passionately believe in sustainably and product innovation, so we use FSC®-C114990 certified slow-grown softwood, expertly selected for beauty and durability".
The ageing process of these benches creates a lovely silvery patina. If you wish to retain the original colour, you can wash down the surfaces with a wood-cleaning product and treat with a wood stain or paint-containing preservative.