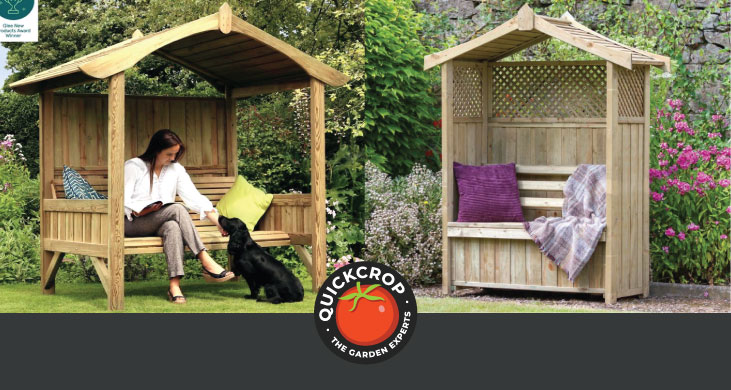 Garden arches are a great way of adding some vertical character to your garden or outdoors. They can be used to provide support for climbing plants or serve as an entrance or archway between different areas. Garden arbours can similarly be used to support climbing plants and lend some visual contrast to your garden area, but they also provide shade, shelter and solitude. They're a great addition to your outdoors and can't fail to encourage you - and family or friends - to spend more time in proximity to your plants!
We supply a range of arches and arbours made from different materials, so we thought we'd do a blog post outlining some of the options. The wooden arbours and arches below come from Zest, who pride themselves on creating products made from sustainable FSC-certified wood. They are deceptively easy to assemble and the slow-grown timber is pressure treated to protect against rot.
Garden Arbours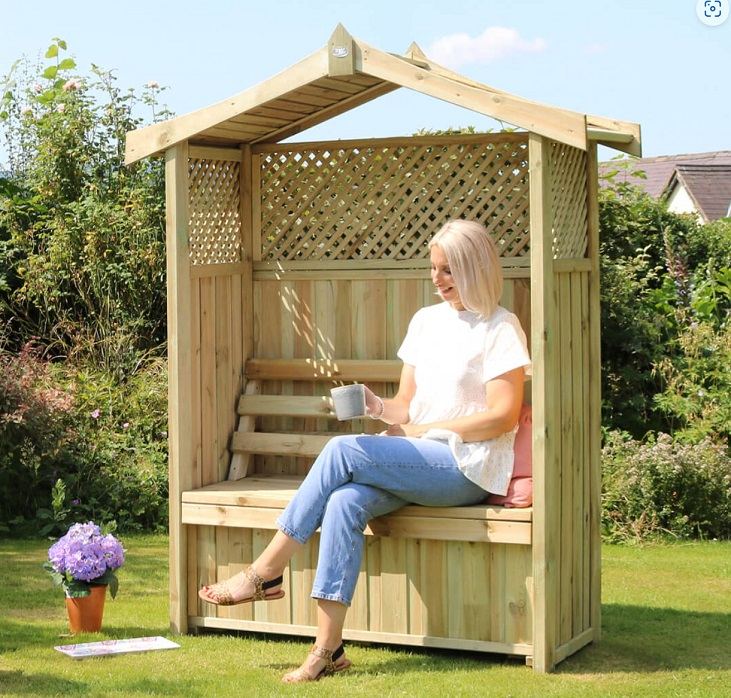 The Dorset Arbour is a lovely choice if you're looking to add a secluded little nook to your garden. Add some cushions or a throw or two and you have yourself a great spot to unwind with a good book and a cup of tea (while keeping an eye on the garden!). It features a slatted, curved roof and attractive diamond trellis panels (which lend themselves well to climbing plant growth). Beneath the seating is a spacious storage box where you can keep reading material, garden tools, blankets or whatever else. It doesn't have to be solitary either, as there's seating room for 2 people!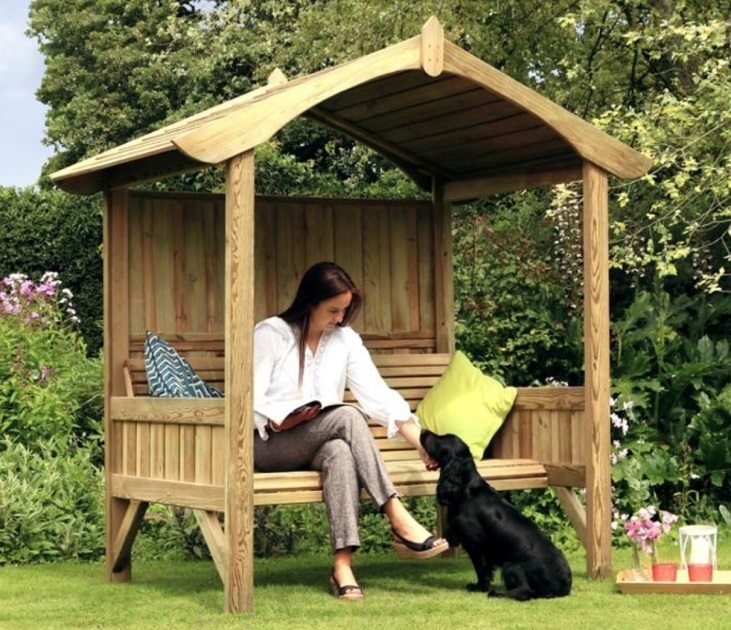 For a more expansive and open variation on the same theme, check out the Burghley Arbour. Its extra-deep canopy provides unrivalled protection from the elements, whether it's unpredictable rain showers or strong midday sun. The superior shade can also make it much easier to work with your laptop in the garden, which as we all know can challenge the brightest of screen displays. Made from high quality timber with a natural finish, the Burghley can seat up to 3 people, making it a nice spot for a bite to eat in the fresh and fragrant air of your garden. The sides are more open compared to the Dorset Arbour, so it's somewhat less of a 'nook' but still obviously a lovely little garden sanctuary as you can see from the photo.
The Tenby Garden Arbour is similar in design, but with subtle touches that distinguish it. Again, it can seat up to 3 people - although the word 'can' might be doing a bit of heavy lifting there! It's probably more suitable for two if you like having some leg stretching room.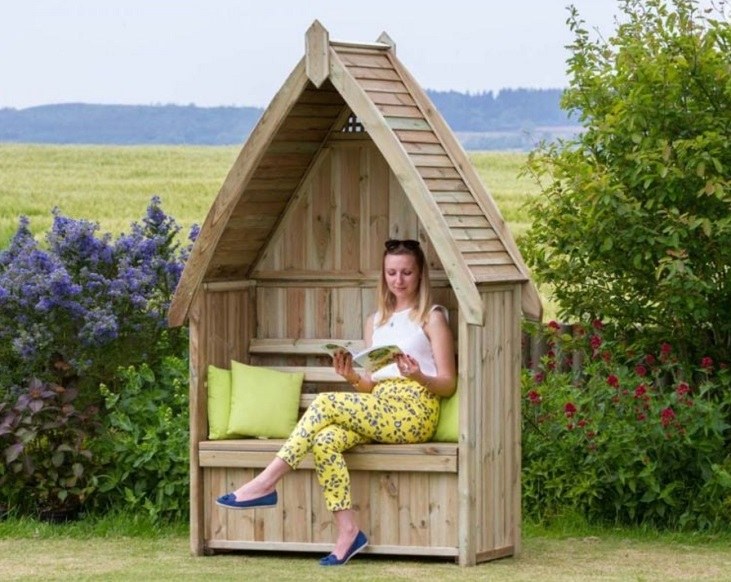 Finally, there's the Cheltenham Arbour, an eye-catching structure that has a cathedral arch-like appearance. It comes complete with a 1.2m storage box so you can keep your essentials close to hand. We think this is a great addition to the garden, whether it's for pure relaxation purposes or as somewhere to take a quick breather while you work in the garden. You can keep your tools in the storage box while availing of the shade during hot days. Needless to say, it also offers shelter during cooler or wetter conditions.
Arches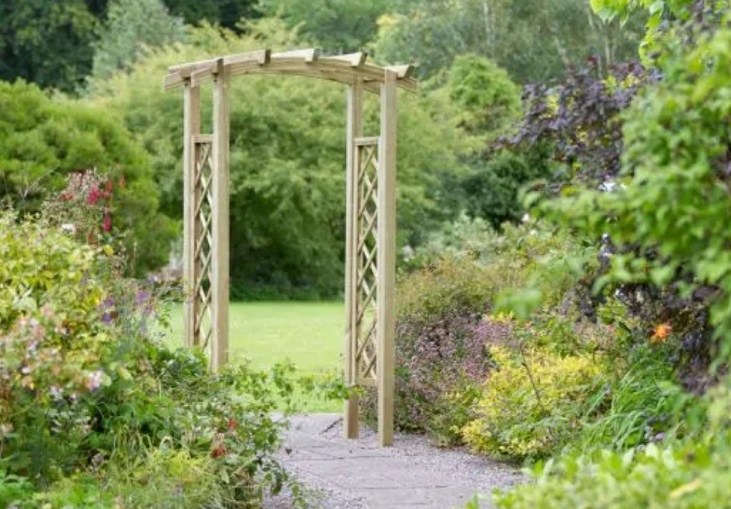 The Starlight Arch is made from high quality pressure-treated timber, it features a rounded rafter with decorative diamond trellis side panels. The arch has an adjustable internal width, with smooth planed uprights and gently bowed top beams. All in all, 'elegant' would be a suitable adjective. At the same time, it has a lightweight unobtrusive quality, which means that it won't take attention away from your climbing plants. It's 2.2m high, while the external width is 1.34m.
The Twilight Arch is suited to wider paths. This is a 'pergola' style arch with an adjustable width span of 2m. The spacious trellis side panels are ideal for training climbers such as roses, clematis or honeysuckle. The classically-styled arch reaches a height of 2.13m and can serve as an eye-catching focal feature in any garden.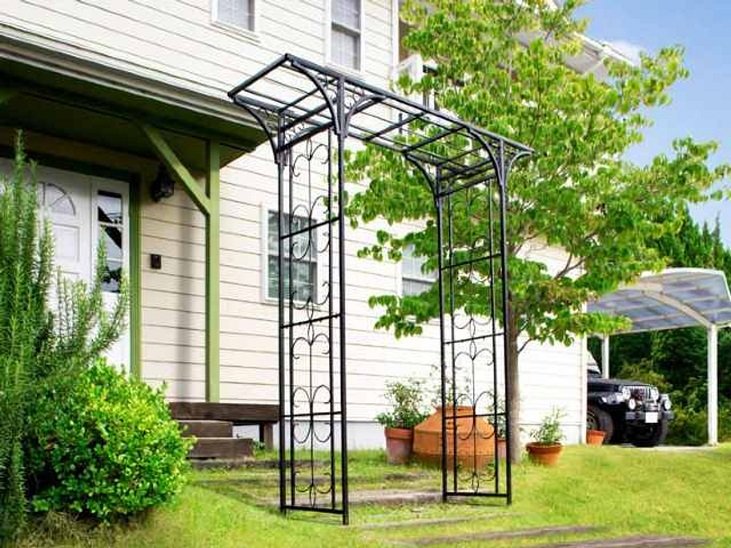 The Vegtrug Osaka Garden Arch has an intricate antique-inspired Japanese design. In contrast to our wooden arches, this arch has a powder-coated steel frame, but it can do similar garden duty in terms of visually highlighting entranceways and pathways. It has a width of 180.5cm and a height of 236.5cm. Then there's the Vegtrug Cathedral Garden Arch, with its grander appearance for more visual impact. Both of these arches come from the makers of the ever-popular Vegtrug planters.