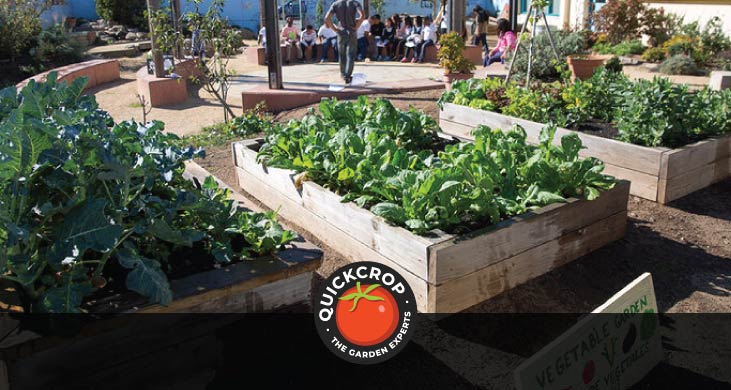 Be Realistic!
I'd give the same advice to any new gardener - to start small with easy to grow crops. A school vegetable garden also has the holidays to take into account so unless you have interested parties who are willing to take care of the garden for the Summer holidays you are restricted to what you can harvest before the school breaks up in June. Don't despair though, there are still plenty of things you can grow!
We also find that many schools will only start thinking about their garden when the weather warms up in April/May at which time you'll only have 4 - 8 weeks of growing time left before the holidays. There are still crops you can grow in that time to teach children how to grow food but your choice will be limited a little further.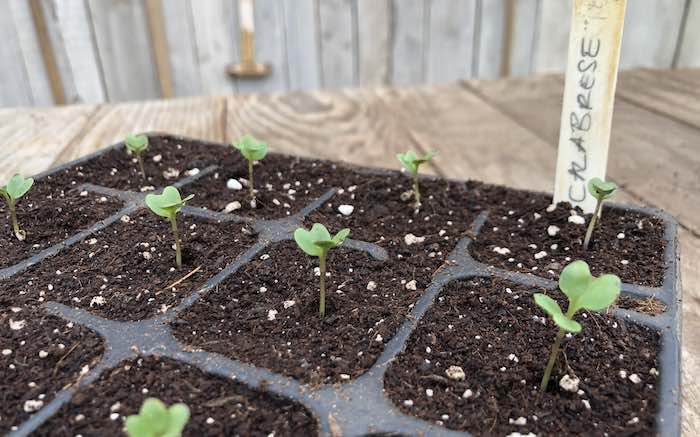 Start Indoors in Modular Seedling Trays
We recommend starting all your seeds off indoors in modular seedling trays as you will have a much higher chance of success. The warmer indoor temperatures give better germination rates meaning more of the seeds you sow will grow into baby plants. Seeds sown outdoors are more prone to failure as the emerging seedlings can be quickly polished off by slugs or killed by harsh weather. Starting seeds off early in the relative warmth of the classroom is crucial in gaining as much growing time as possible before school breaks for the summer.
Sowing in separate modules is also fun for children and means you can sow various different seeds in a handy tray that can be easily moved around the classroom. When the young plants need to be planted outside in 3-4 weeks they can be simply popped out of the tray and into the ground.
What can't I grow?
As a rule of thumb, most vegetable crops are sown in the spring and are ready for harvest from mid summer through to Autumn. Unfortunately, due to school term times, this excludes a significant number pf vegetables from the school garden unless someone is available to tend it for the summer.
There are crops that will be ready by early June which include fast growing salads or plants that we are trying to squeeze past the post before school breaks for the holidays. For more advanced school gardeners, there are also crops can also be sown or planted in the Autumn and will overwinter in the beds for harvests the following spring or early summer.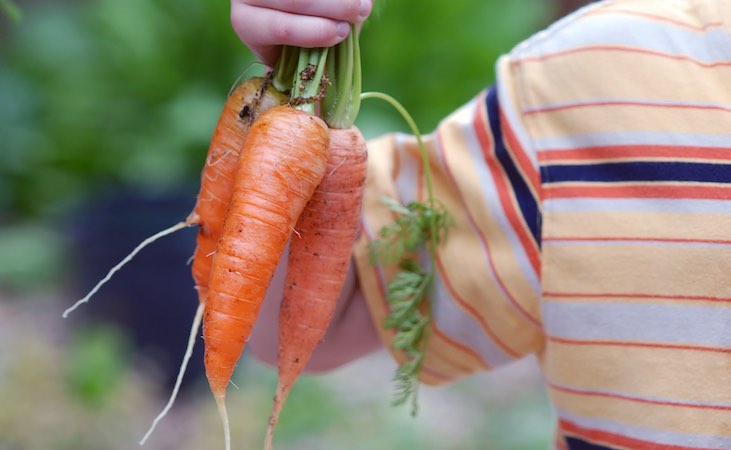 I include below our recommendations for a school garden including spring and autumn sown options. You will notice many of the crops are 'early' varieties, this means they are bred for early sowing and therefore earlier harvests.
Spring sown outdoor grown crops
Early beetroot
Variety: 'Bolthardy'.
Beetroot can be sown indoors from February in modular trays and planted outside in mid April. Golf ball sized baby beets can be harvested in early June. It is important to sow an 'early' variety to avoid running to seed e.g. 'bolthardy'.

Early carrots
Variety: 'Amsterdam forcing' or 'Early Nantes'.
Carrots can be sown outside in a dry March but for school growing it is more reliable to sow indoors in a deep pot in mid February, the pot is then moved outside in mid April. Carrots are more commonly sown direct in the soil outdoors but give the constraints of the school term times, outdoor carrots will not have time to bulk up before the holidays. Decent size baby carrots can be harvested in late May and early June using the pot or carrot planter bag method.
Annual spinach
Variety: 'Banjo F1'.
Annual spinach is a relatively short lived crop that does not like the heat of summer as it causes it to run to seed. It is therefore an ideal spring crop for sowing indoors in modular trays in late March and planting outside in late April. Annual spinach will yield good crops of glossy green leaves by late May.
Chard and perpetual spinach
Varieties: 'Perpetual spinach', 'Rainbow Chard', 'Swiss chard'.
Chard and perpetual spinach are from the same family and are grown in the same way. Sow late March or early April for small to medium sized leaves ready from mid May. The advantage of chard family plants is that they produce new leaves after a harvest and will crop for up to 10 months from a single plant. For a school garden, we recommend 'Rainbow chard' (above) due to its attractive brightly coloured stems.
Kale
Varieties: 'Nero di toscana', 'Russian kale', 'Curly kale'.
Although normally viewed as a winter vegetable, kale's hardiness means it also makes a good early season choice for sowing in March and planting out in early April. By late May, plants will have produced good size leaves for harvesting and will happily sit for the summer with little or no attention for continued picking in Autumn. Italian 'Nero di toscana', also known as dinosaur kale, is a fun one to grow due it's crinkly, dark green 'dinosaur skin' leaves.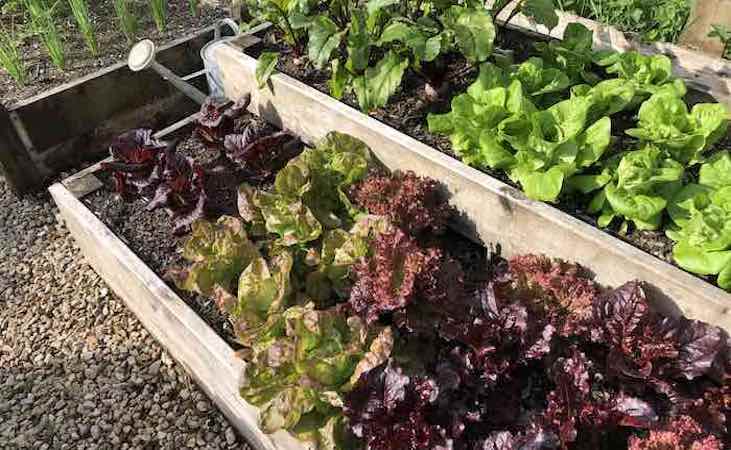 Lettuce
Varieties: Any lettuce is ideal for school growing but for colour and crunch (above), we recommend 'Batavia red and green mix' and 'Little gem'.
Lettuce can be sown from March to August (earlier if starting indoors) and is ready to pick approx 8 weeks after sowing. It is ideal for a school garden given it's vibrant colours and easy growing nature though you do need to watch out for slugs.

Oriental greens
Varieties: Rocket 'Napoli', Mustard 'Green frills', Mustard 'Red frills' Leaf radish 'Sangria'.
Oriental greens include the familiar rocket salad leaves but also covers a wide range of other leaf shapes, colours and flavours from mild (mizuna) to peppery (rocket). The advantage to the school garden is that they are very easy to grow, are fast to mature and are cold tolerant so can be grown early in the season or in the Autumn term.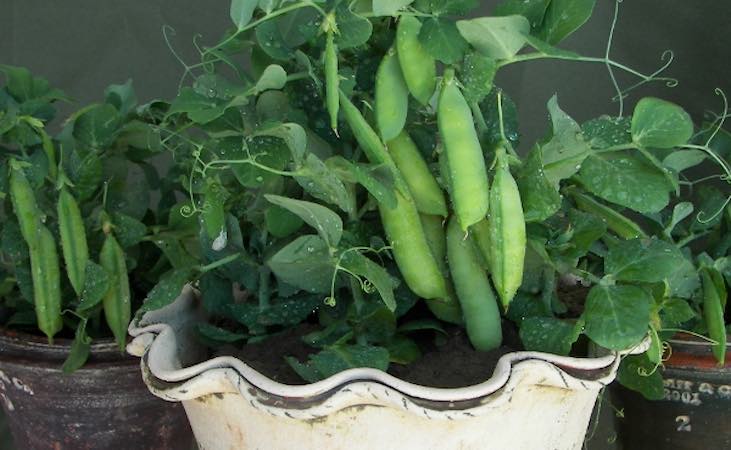 Early peas
Varieties: 'Meteor', 'Dwarf meteor', 'Feltham first'.
If sown indoors in February in pots or modular trays, early variety peas will very likely produce a crop by the end of May. Be aware that standard peas need a support to grow up which is why we recommend growing a dwarf variety which will grow into a compact bush shape. Dwarf varieties (above) also give a better chance of success as they can be growing indoors in a large pot and moved outside in early April.
Peas shoots - Peas can also be sown thickly in pots and harvested as pea shoots in 3-4 weeks from sowing. Pea shoots are immature pea plants with attractive curly tendrils and a mild pea flavour, they are used as a garnish or as part of a salad. Any pea variety will do for pea shoots, even dried peas used in cooking provided they are soaked first.
Early potatoes
Varieties: 'Homeguard', 'Nicola', 'Charlotte'.
Early potatoes are planted in March and are ready for harvest in June, they will likely be small in late May and early June but still a worthwhile and fun crop. It is important to choose early varieties as they are the fastest to mature.
Radish
Varieties: 'French Breakfast', 'Cherry Belle'.
Radish is the classic beginner crop as it is so fast growing and will product brightly coloured, crunchy roots 5-6 weeks after sowing. Very easy to grow both in the classroom and outside.
Spring Cabbage
Varieties: 'April, 'Greyhound'.
Spring cabbage is a pointed rather than a round, ball head type cabbage with the advantage that it is quick to mature. More experienced school growers can plant spring cabbage the previous Autumn for harvests in mid to late April but even when sown in late February or early March indoors, it will produce good sized heads by the end of May.
Spring Onion
Varieties: 'Ishikura bunching, 'White Lisbon'.
Spring onions will need to be sown in early February indoors in order to produce large enough onions by June. Our recommendation is to use Japanese bunching onions (e.g. Ishikura bunching) because they tend to be more vigourous and produce a larger onion in a shorter timeframe.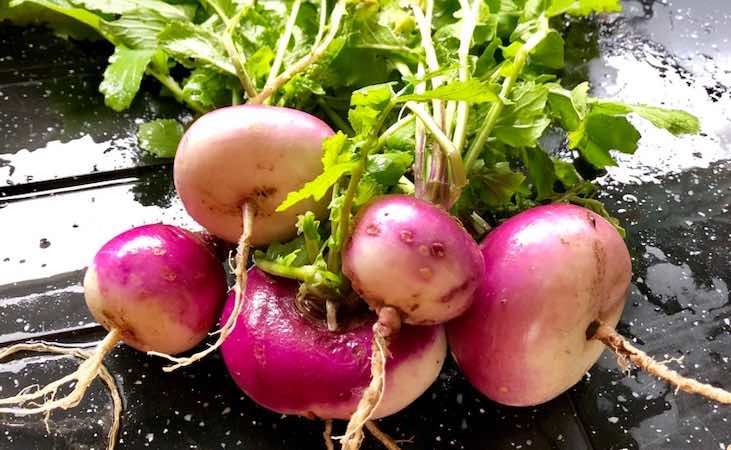 Turnip
Varieties: 'Milan purple top, 'Tokyo cross'.
White turnip (not to be confused with the yellow swede turnip) is a fast growing crop that will yield roots the size of a large peach in May from a March sowing. 'Milan purple top' (above) is a nice choice for the classroom thanks to its pretty magenta shoulders and a white belly.
Sprouting Seeds and Micro Greens
Seed sprouts from a very broad range of easily available seeds. A large number of seeds are placed in a jar or suitable container to germinate with the highly nutritious sprouts being eaten as a salad crop or garnish.
Microgreens
Microgreens are seeds that are sown densely and harvested at 4-6 weeks a baby greens. Many seed varieties can be used with easy to grow seeds like Kale being perfect for this process. Simply scatter seeds in a compost filled seedling tray and harvest when covered in a dense mat of foliage after 4 - 6 weeks.
Seedling Plants
Seedling plants are 4-6 week old plants produced by a plant nursery (us!) and delivered to your school in easy to plant seedling 'plug' trays. The advantage is that you can still get plants in the ground at a late stage as they have already been growing for 4-6 weeks in our nurseries.